How to Plan a Romantic Valentine's Day at Home
Ahhh, love. We know all you smitten kittens out there are celebrating your better halves every day of the year, but Valentine's Day is here! Whether you think it's cheesy, orchestrated, or the best day ever, anyone who is partnered off is beholden to the love gods this one day a year. Expectations are high for a romantic night for two. However, there is nothing less romantic than paying $150 per person for a pre-fixe meal you don't even like, while smooshed next to another couple. Not this year. This year, you are going to be smart. You're going to plan a romantic Valentine's Day at home, avoiding crowds, saving money, and generally impressing your lovah. Here's how:
Set the Mood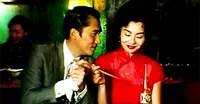 Your house is boring. Harsh, we know, but hear us out. You and your partner spend a ton of time there doing non-romantic/non-sexy things (i.e. cleaning the toilets). Not today! Today, we're bringing sexy back. The first step is creating a lovely ambiance. Here's what you'll need:
A place to eat that's not in front of the TV
If you have a dining room or dining table in your kitchen, remove all of the unsorted mail, old magazines, and crap that's currently covering it. If you don't have a dining room/area and need to eat in the living room, tune your TV to the Yule log. Nothing says romance like a crackling fire.
Set the table
Sounds simple enough, but how often to you use your fancy dishes and cloth napkins? Set out all of those different sized forks (even the small ones). Don't worry if you're not going to use them. It's for the look. Put down a wine glass and a water glass. Now you're getting classy.
Sit at the corner of your table
So you can touch each other–in a PG way, you filthy animal! This is just the appeteaser, after all. We're talking a gentle brush of the fingertips while you stare longingly into each other's eyes.
Add the final touches
It's time for a little mood lighting and music. For lighting, use that dimmer switch if you have one. Or if you don't have one, turn on the lights only in adjacent rooms/hallways, so light gently surrounds the room you're in. And don't forget candles on the table. For music, there are tons of great romantic playlists on Spotify and Pandora. Sign up for a free trial of the premium version if you don't already have it to make sure commercial don't interrupt your night.
Make Dinner Interactive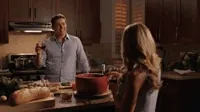 Sorry, Mom, you're wrong on this one. There's something really fun and sensual about "playing" with your food. Choose dishes that go together in groups, so you can do pairings and tastings throughout the night. It'll be exciting to try something new with your partner and ease any awkwardness you feel trying to be fancy in your own home. Here's how it's done:
Appetizer
Start with something light like a cheese and charcuterie board. Yes, you can do this at home with the help of your local grocer. Ask the guy/gal at the deli counter to recommend some cheeses and meats that would pair well together. Try three of each. Then, look online to see how they are often served, so you can add some olives, nuts, honey, and jam. Display it all on a large cutting board with some crackers or bread, and experiment with different pairings and flavors.
Dinner
Dinner is an opportunity to keep that tasting atmosphere going. Pick a bunch of sides or small plates to sample; four to six should be plenty. Upscale grocery stores like Whole Foods and Wegmans have great prepared food counters where you can grab something to be heated up a home later–no cooking! Don't forget to keep your choices light. There's nothing less sexy than a bloated post-dinner belly.
Dessert
What could be more fun than a vodka ice cream flight? Pick a few of our flavors to try post-dinner. Pair similar groups to ensure that the flavors compliment each other: chocolate, vanilla, and cookies + cream or try key lime pie, coconut, and raspberry. Don't forget the whipped cream and chocolate sauce. Those might come in handy later…
Drinks
Another perfect opportunity to rely on your local expert, this time at the liquor store. Once you've planned out the food, pop in and ask them to make a wine pairing recommendation for each course. You don't have to go crazy/spend a lot here. There are some great bottles of wine in the $12 range. You can even go with just one for dinner and one for dessert. Experiment with tasting the wine first without having tasted your food. Then taste the various foods and note how they change the wine's flavors or how the wine changes the food's flavors. Have fun with it!
A Sweet Finish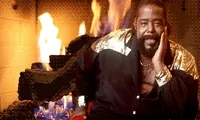 End your romantic evening at home together by reconnecting with your partner. Watch a favorite movie, exchange cards or love notes, and snuggle up under a plush blanket. See where the night takes you from there.